Forecast for the hyper-casual market in the second half of 2023
We've compiled a fresh report complete with graphs and figures to assist you in comprehending the current state of the hyper-casual games market as of mid-year. This includes insights into which genres developers should consider exploring in the near future, and which should be approached with careful preliminary analysis. We'll also delve into intriguing trends, as well as market fluctuations.
Let's discuss the methodologies and significance of market analysis for developers aiming to either sustain or enhance their standing. A surge in revenue within a genre doesn't necessarily reflect its future potential for developers. Stability could signify a decline, and a drop in downloads for a specific genre might point to a prospective growth area.
Now, onto the general figures.
Market size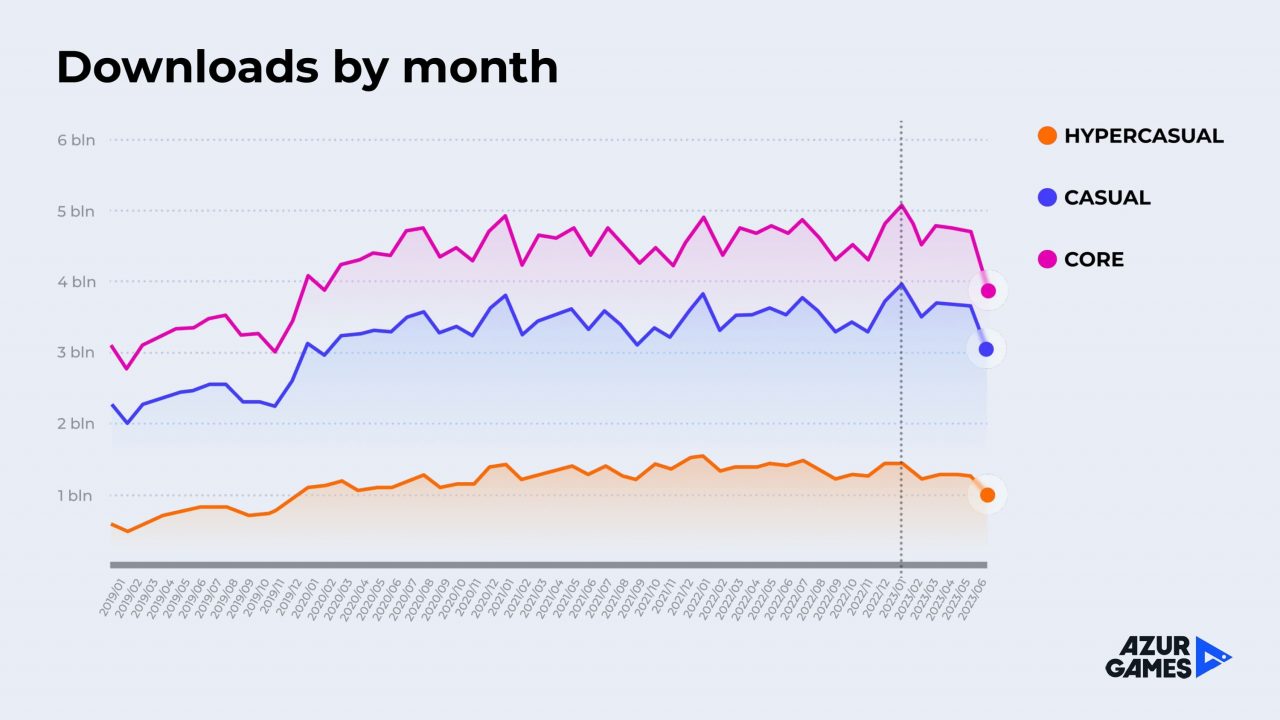 The vertical dotted line in all graphs represents the start of 2023. Since that time, the market hasn't expanded for over six months. Furthermore, the casual, core, and hyper-casual game sectors are generally trending downwards.
This decline implies increased competition for those wishing to remain in a market experiencing fewer downloads. Expectations will rise, not just concerning visual appeal and technical aspects of projects, but also in relation to game design and mechanics (we'll address this later within the context of particular genres).
The need for teams to have product expertise and robust development pipelines will also see significant growth. The era of mini-teams (consisting of one developer and one artist per project) in hyper-casual is almost behind us.
In other respects, hyper-casual games confront the same market size challenges as casual or core titles. However, this doesn't mean that the genre is dying, contrary to various past forecasts.
Downloads inside Azur Games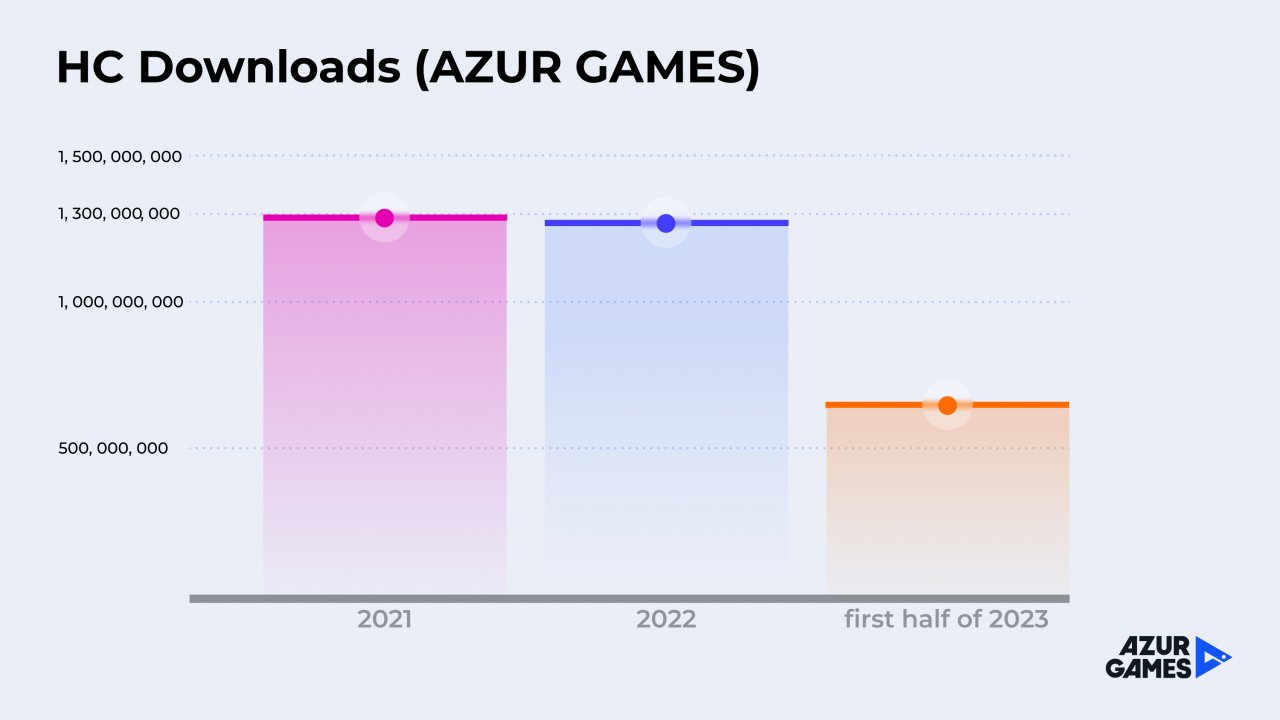 The market stagnation began in 2022, but Azur Games managed to maintain its leadership among publishers in terms of the number of downloads. However, the situation is more complicated than it might seem at first glance. While downloads have remained at the same high level (nearly 1,300,000,000 installs of hyper-casual games in 2021 and 2022, with over 600,000,000 downloads in the first half of 2023), eCPM has fallen, and both development and marketing now require significantly more resources.
The market size is expected to remain the same in the near future, but with more competition, this means a downturn in every sense.
Advertising revenue will decrease, publishers will focus more on in-house studios, and the days of raw, unpolished prototypes are over.
eCPM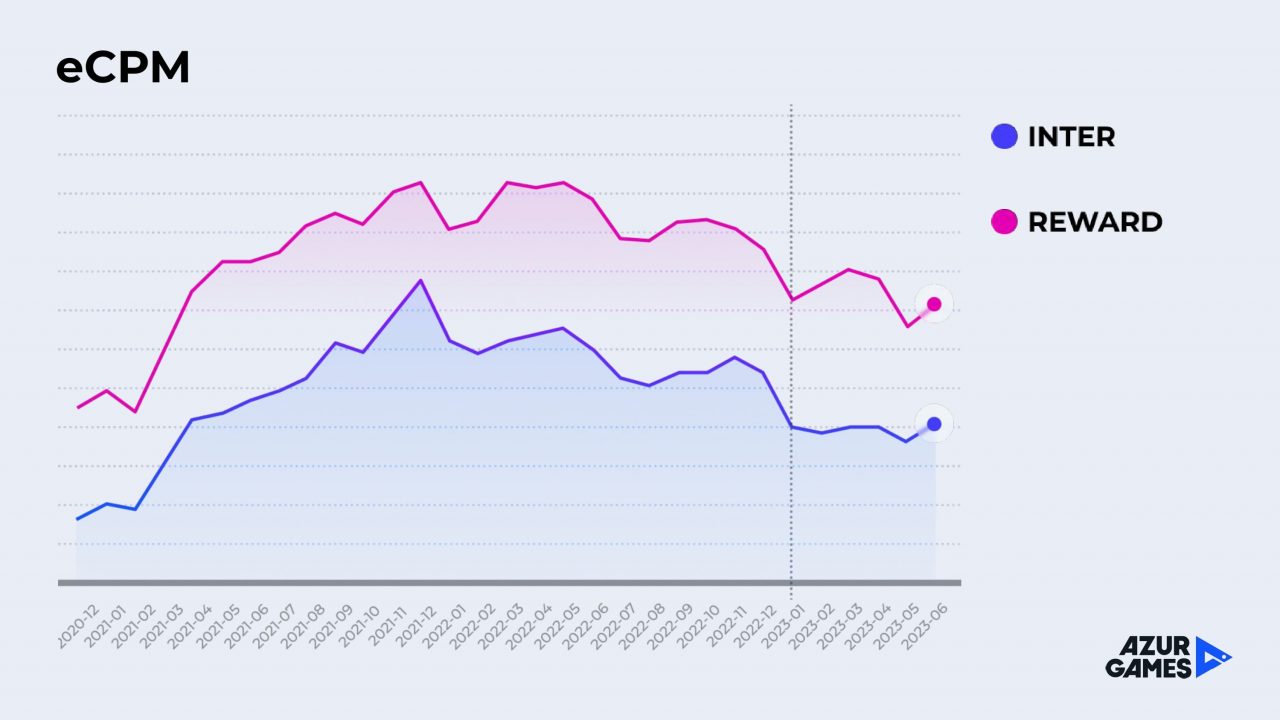 This is the company's internal data in general terms. Conversations with other industry representatives reveal the same picture, which shows the general market trends.
eCPM is a critical gauge of the monetization of hyper-casual games and hybrid genres like idle. Naturally, the highest rates were during COVID. It was clear that stagnation would follow, but the drop has been sharper than many expected. With intense competition growing by the day, these are concerning numbers.
There may be some positive adjustments in the future, but that will depend more on the global economy than on developers and other factors.
The world's economic downturn and large advertisers cutting costs, coupled with new games entering the market and old hits remaining popular, result in huge supply, low demand, and falling eCPM.
Top 300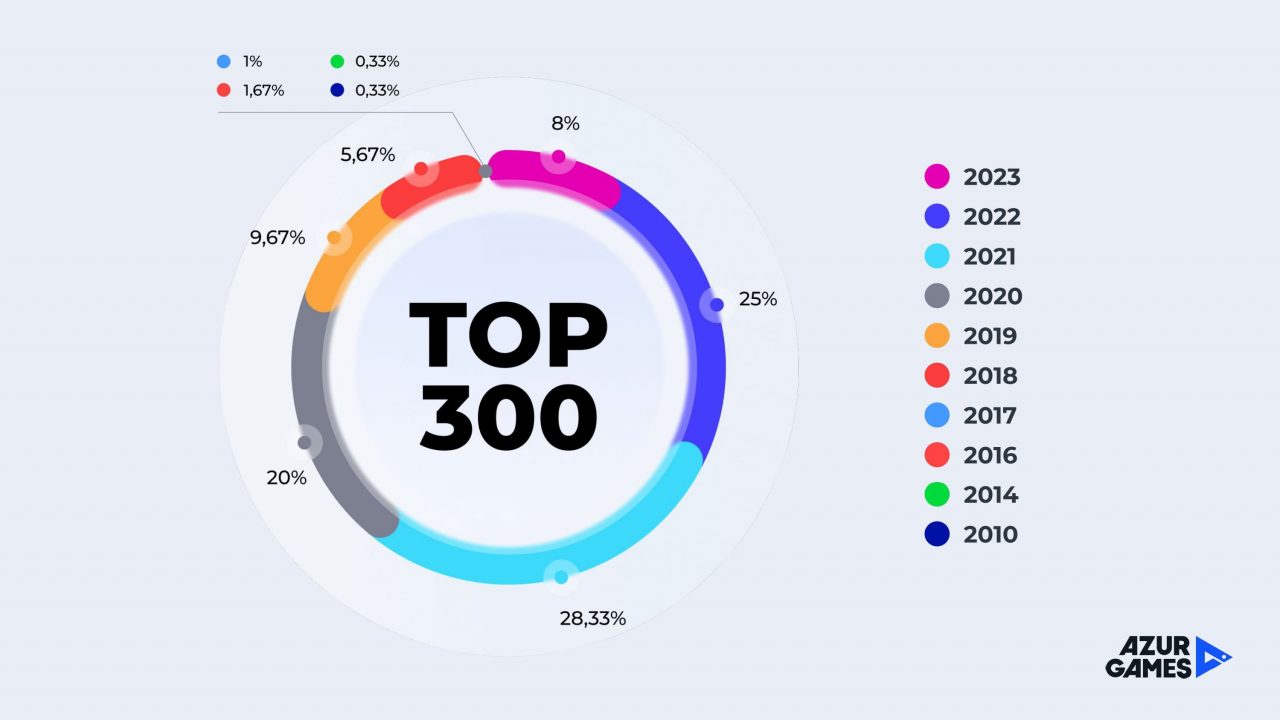 These are the top 300 games by downloads as of early July 2023. Games released from 2020 to 2022 occupy 73% of this list. More than half came out before 2022, and 2022 only took 25% thanks to several large releases in December. Otherwise, older games would have an even larger share.
2023 held 8% of the top 300 in early July. There might be some big titles this year, but the competition is fierce and not limited to newer games.
However, we expect games developed according to new principles to enter the market and make a significant impact. The introduction of quality new titles that differ from the 'old but gold' games might spark audience interest, creating a situation where supply drives demand.
In that scenario, new games will start to take a share from the old ones, which should happen at some point anyway.
But if teams don't change their development approach now, breaking through will become increasingly difficult, and the share of new games will only decline. If nothing changes, by the end of 2024, the share of new games in the top 300 may drop to 10%.
If the entire market alters its approach to game development in 2023-2024, then by 2025 we might see a multitude of super hits taking share from 2019-2021 games, even without market growth.
Download analysis by genre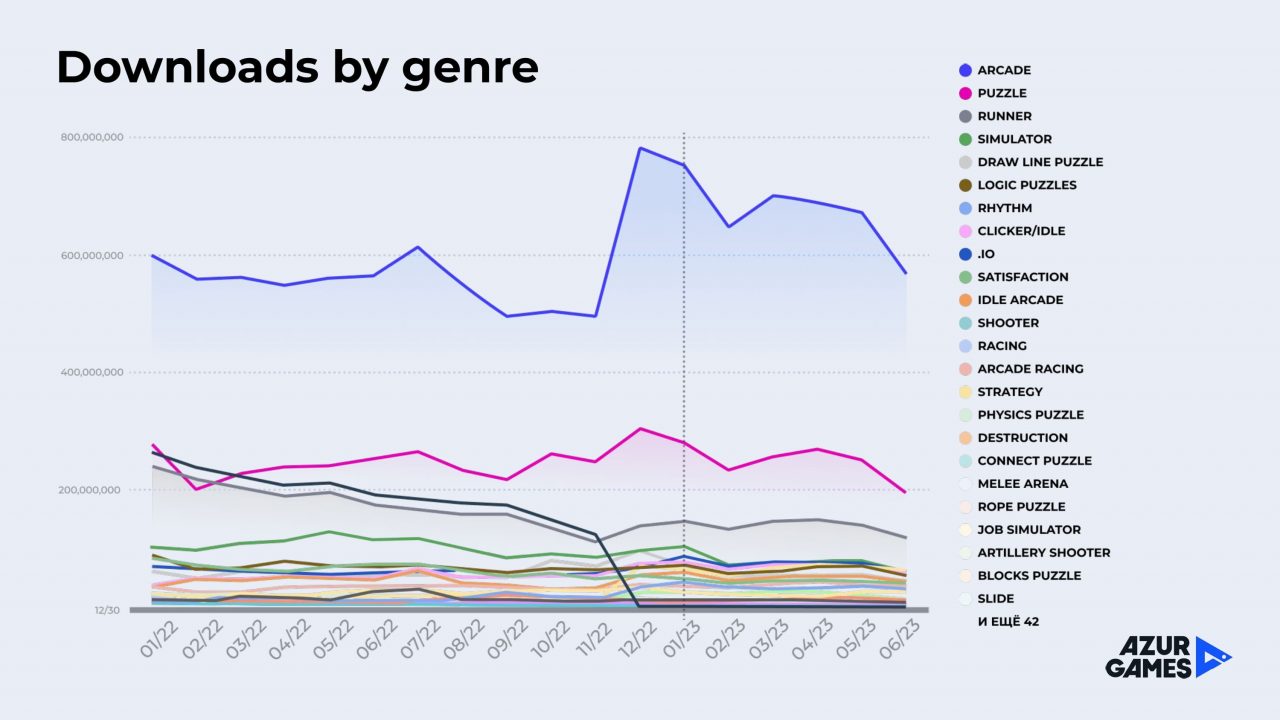 Understanding download dynamics doesn't guarantee success when selecting a particular genre for development, but it helps grasp the market's pulse and what to consider in your production process.
If we're discussing the top line of arcades, it's crucial to know that they encompass numerous subgenres, including puzzles and simulators. Notably, hybrid casual games are frequently labeled as hyper-casual on many analytics platforms like AppMagic or data.ai.
The arcade line serves as a health indicator for the entire hyper-casual genre. In mid-2023, it's almost at the same level as the start of 2022. After a significant increase, the number of downloads begins to decline.
Puzzles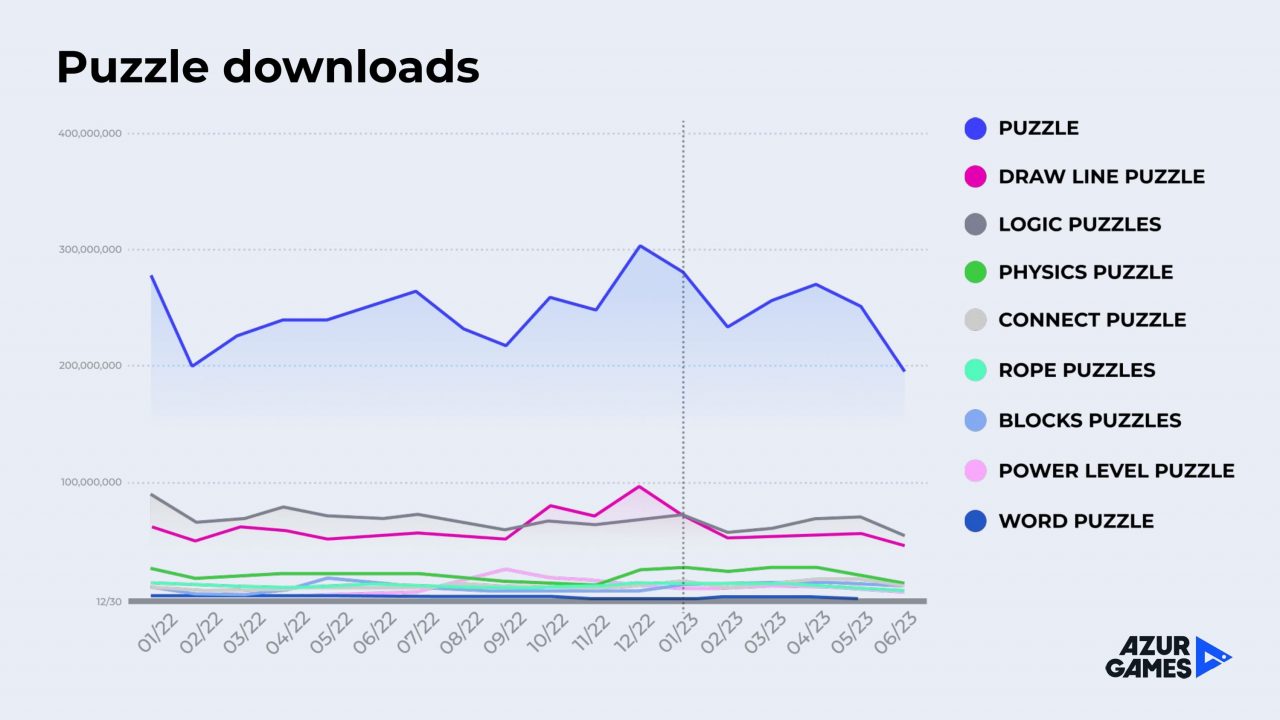 Puzzles remain a steadfast part of mobile game development and are likely here to stay. Although downloads are decreasing, it's an attractive niche with strong performance.
The question is, how is the genre evolving due to competition and decreasing eCPM. Modern puzzles are becoming more interactive, allowing players to affect the gameplay directly.
A notable example is the emergence of draw-to-mesh mechanics in the power level puzzle subgenre, where players' finger drawings become physical meshes. This is a departure from classic puzzle games that relied on drag, match, find, and tap mechanics.
These drawing mechanics are not new but are now fostering a unique feel in each game session. This trend of variability and replayability is still maturing but could strongly shape the genre's future.
Idlers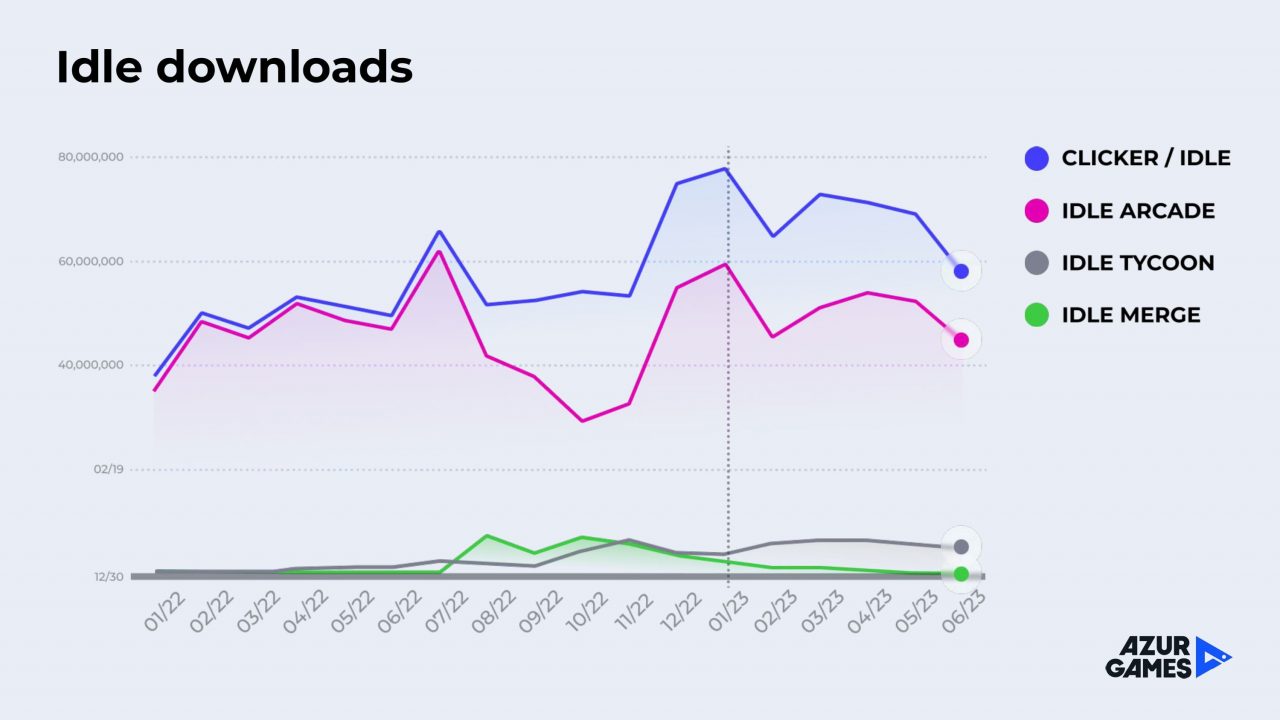 The idler genre has experienced both highs and lows, but currently, it's performing better than at the start of 2022. Besides, it's one of the few genres showing consistent growth in both downloads and in-game purchases.
At the same time, the complexity is increasing in idlers with more content, mechanics, chains, and animations.
This intelligent evolution should be a lesson for all game developers, as it requires enhancing the studio's internal production process. It's a key reason why idlers continue to thrive.
Runners and shooters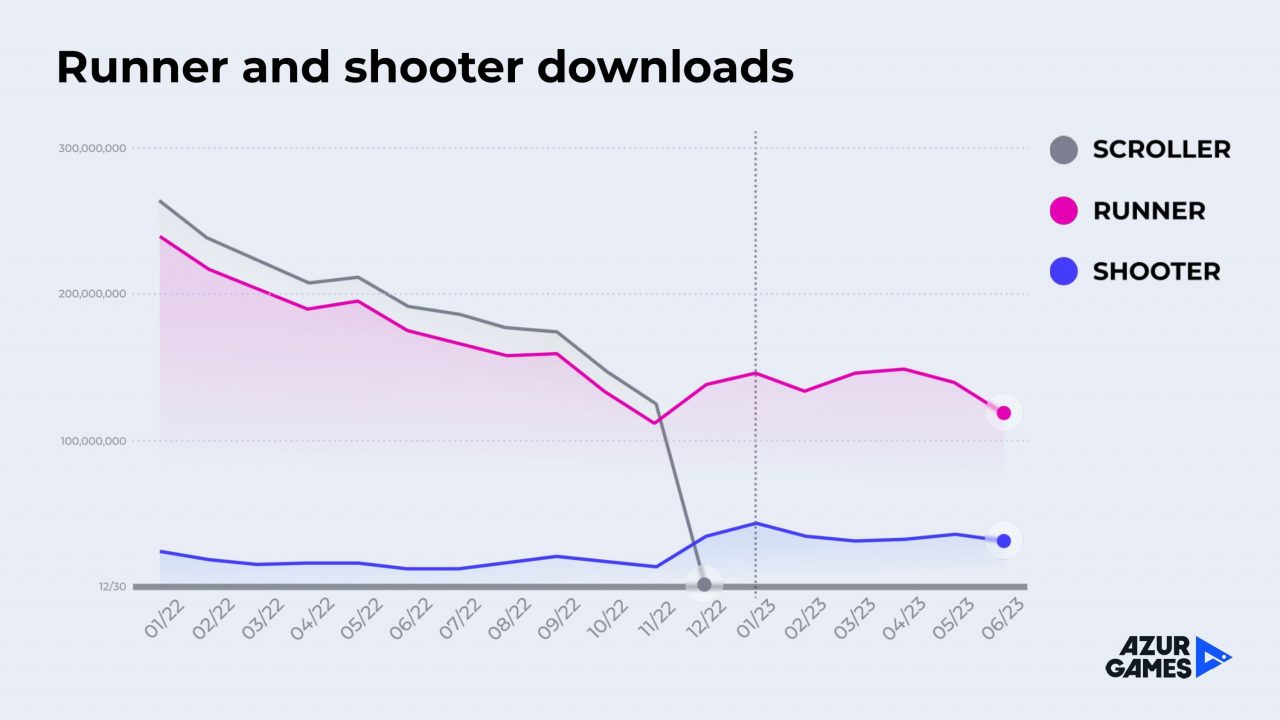 Runners are experiencing a revival. After a decline in 2022, the genre suddenly shifted its direction and now has all the chances to start growing again.
We're connecting this resurgence to a shift in development focus, replacing classic games with a single core mechanic with hybrid cores that include various phases like gathering, shooting, and interacting with finish mechanics.
Currently, most top runners have moved beyond the old approach of just collecting, giving the genre new depth. This is the main reason for its survivability.
Shooters are a different story. They have also seen an unexpected rise in downloads, but mostly with older titles. This curious observation could imply that even dated shooter games are sought after due to limited supply.
It doesn't guarantee success for new entrants but signals an opportunity to explore this genre or integrate shooting mechanics into existing projects.
However, developing games based on old principles likely won't work now. Those entering this space must prioritize polishing visuals and mechanics even at the prototype stage, as what succeeded before might now be overlooked.
Other genres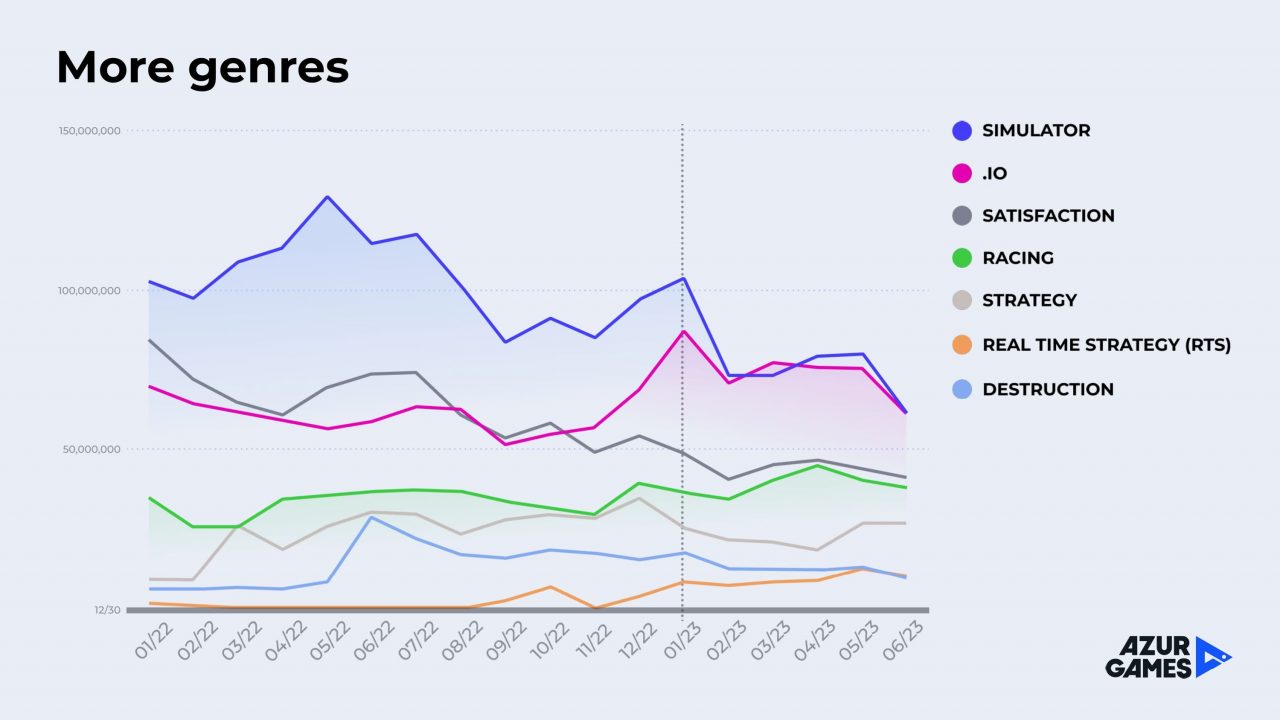 Simulators, .io, satisfaction, and racing are on the wane, potentially awaiting a genre "reboot" similar to idlers and runners.
However, strategies and RTS, although low on the list, have tripled their volume since early 2022. Also, it's worth keeping in mind that these genres have strong potential for in-app monetization.
Simulators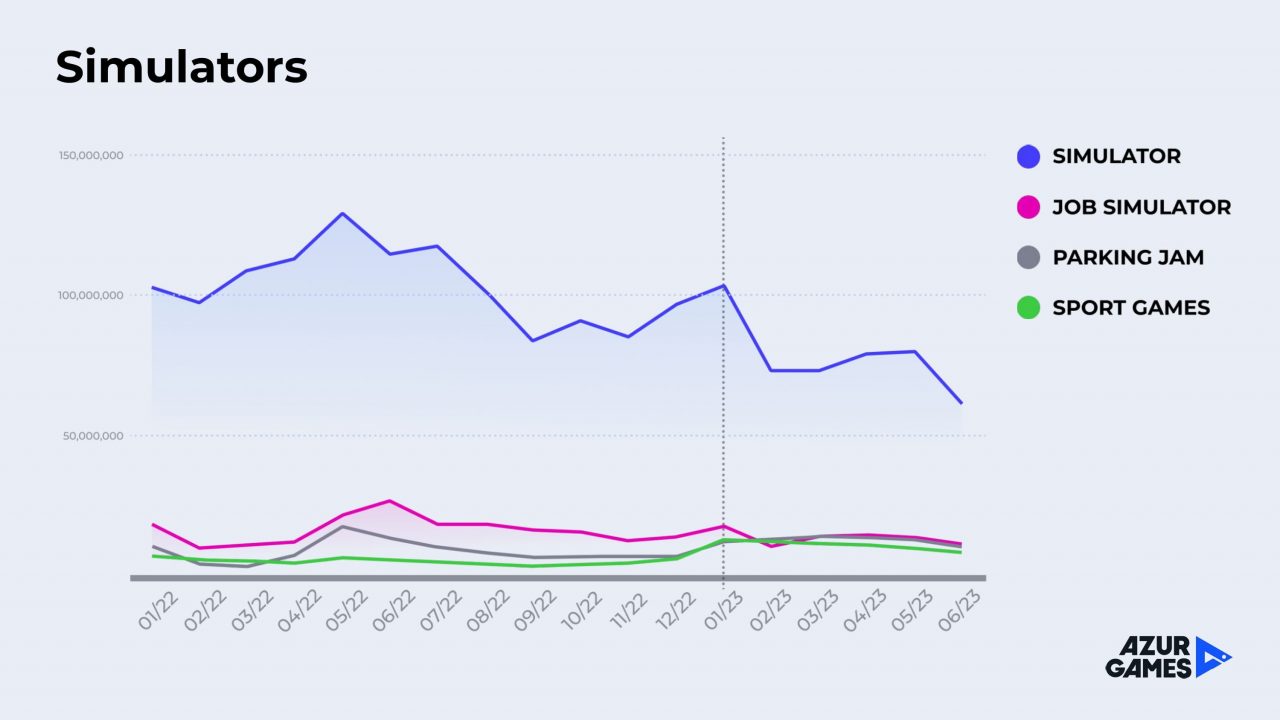 Despite a decline in volume, this genre still maintains decent downloads. It seems likely that the subgenre requires rejuvenation and a content-driven approach. A focus on core gameplay alone doesn't cut it anymore; good progress, balance, and high content volume are now key.
In-app monetization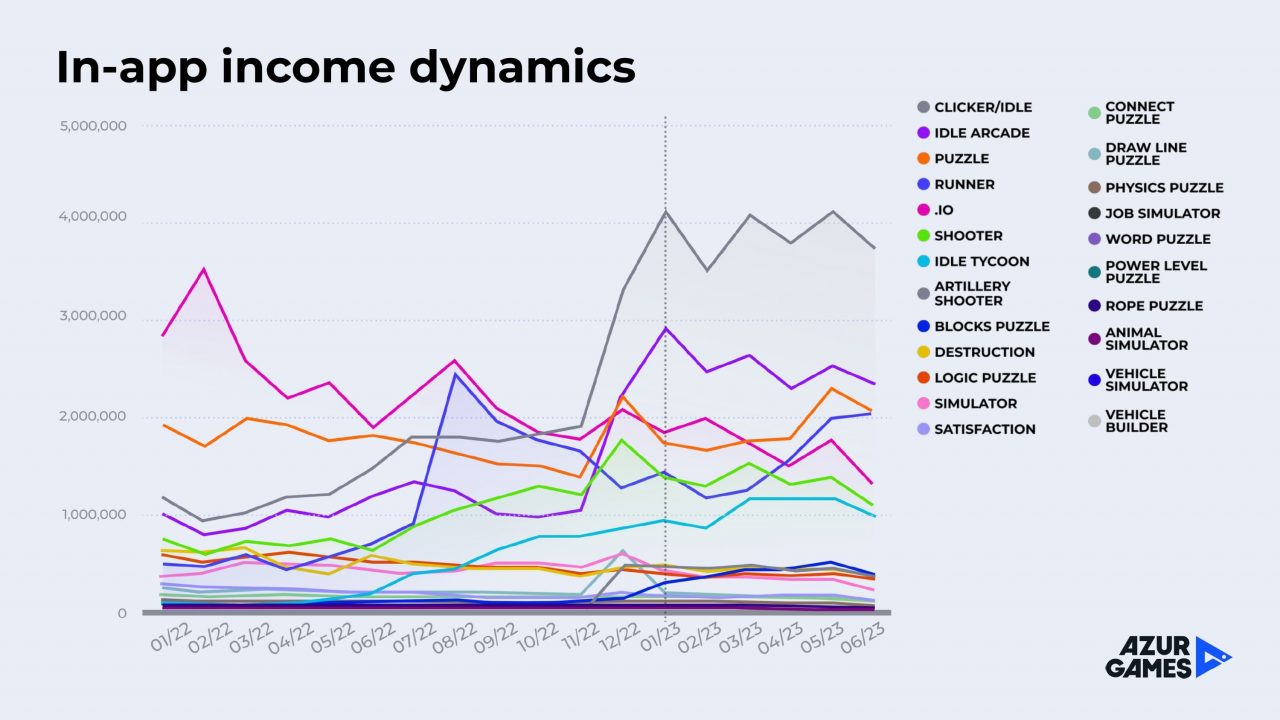 In-app monetization has emerged as a beacon of hope for hyper-casual games. We saw the rise of clickers/idlers, as well as puzzles, runners, and .io genres showing decent results in this regard.
However, a deeper look into the .io genre reveals an interesting nuance that's easy to miss otherwise.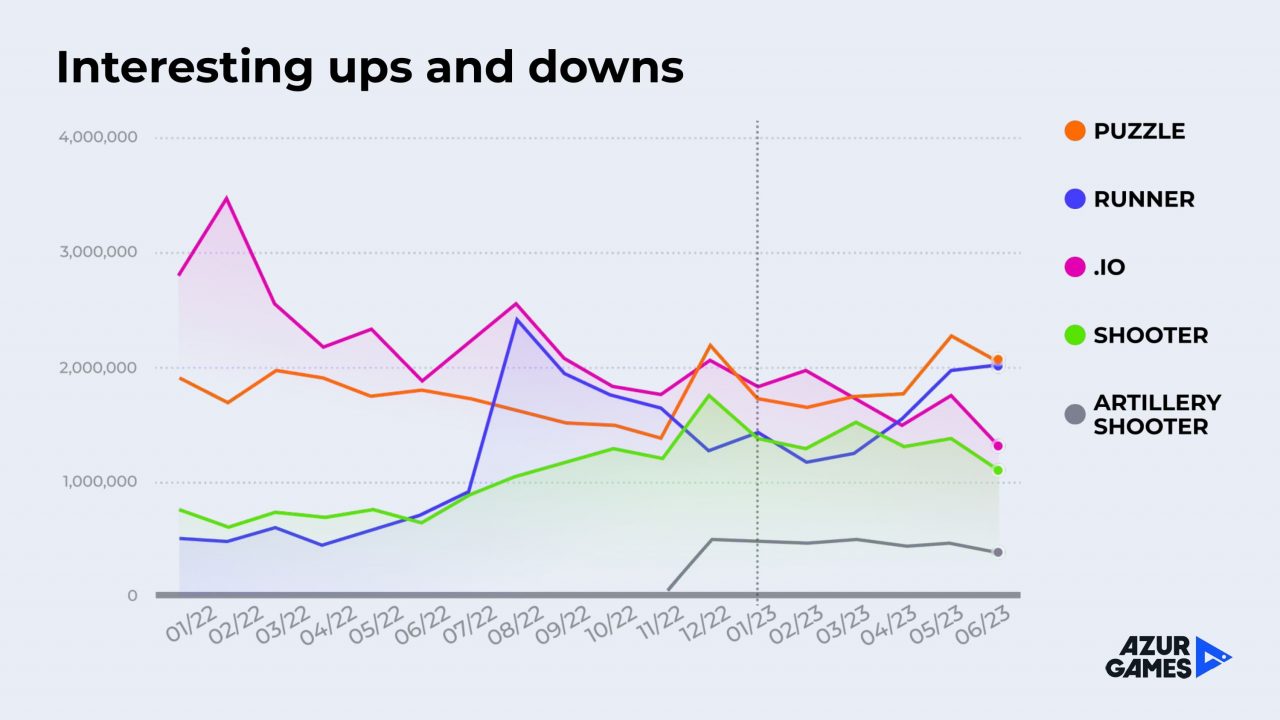 Reading the data correctly is key when it comes to analyzing the market. A proper analysis shows that 80% of the .io genre's high in-app revenue comes from a single Chinese title, Battle of Balls. Other projects in the genre make significantly less.
This trend extends to other genres, where a few games dominate revenue, making it challenging for smaller or inexperienced teams to compete.
Nevertheless, we expect hyper-casual in-app purchase revenue to grow.
New releases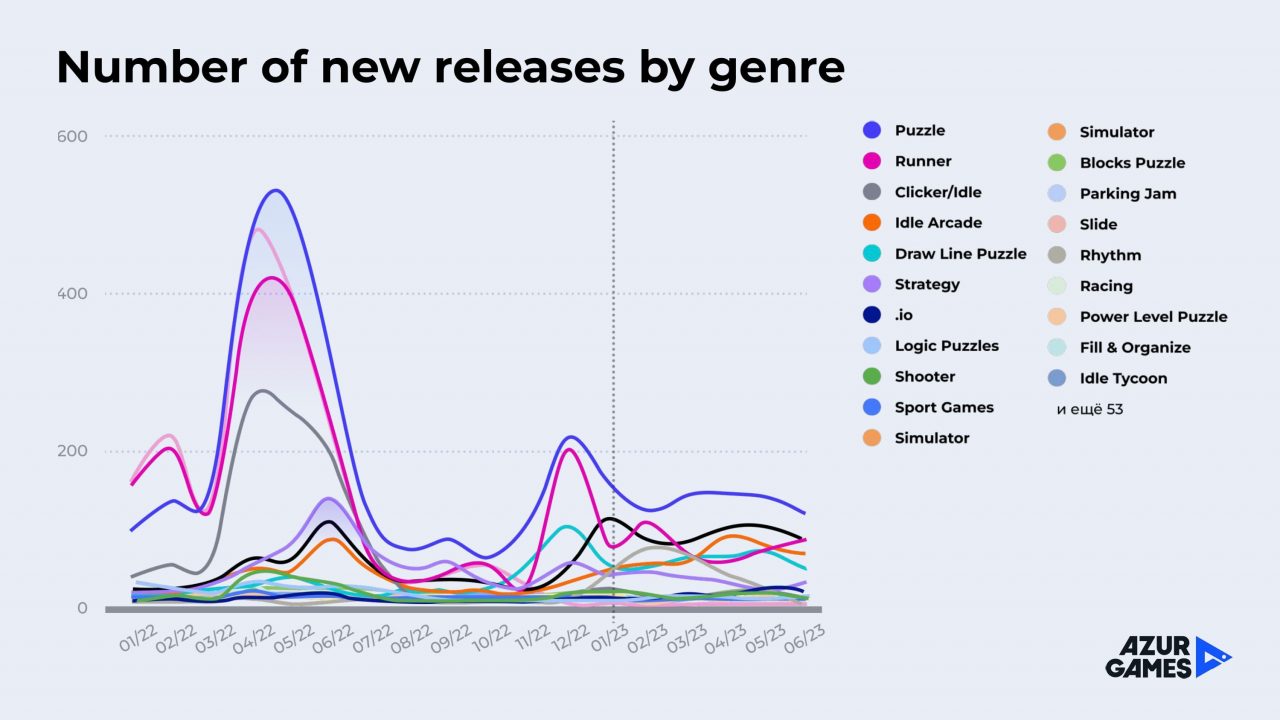 The most popular genres launched in 2023 include puzzles, runners, and clickers/idlers.
These genres illustrate a strong trend of in-game purchases, highlighting intense competition and emphasizing the need for quality in content, game design, progression, and visuals.
Regardless of the situation, 2023 has given us a few interesting releases.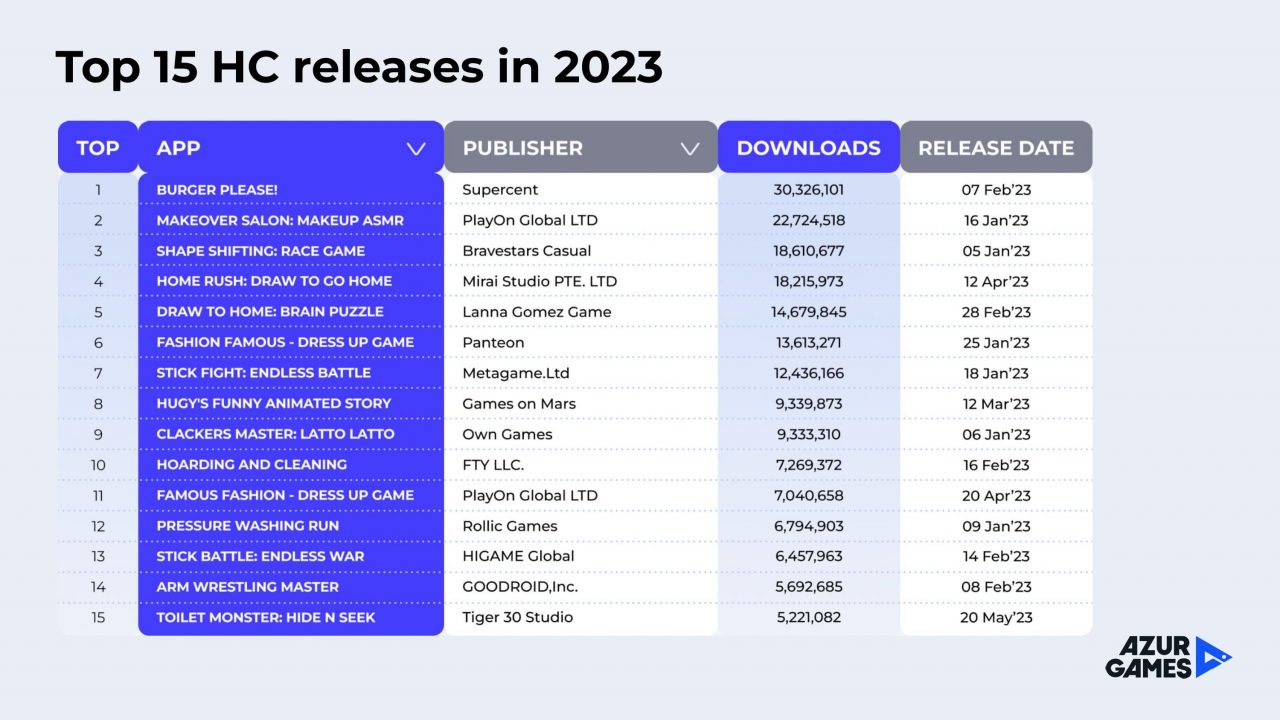 These are the games released in 2023 as of early July. Despite predictions of its demise four years ago, 2023 has proven that the hyper-casual games industry is very much alive.
One standout is Makeover Salon, a reimagining of the simulation genre.Among other things, its success lies in a unique approach to realistic visuals and content for hyper-casual games, standing out from the competition. Projects that showcase the evolution of a genre are likely to appear more frequently in the top lists.
In conclusion
The key takeaway isn't the pursuit of a niche with high downloads or in-game purchases, but fostering a development culture within studios based on thorough market and competitor analysis.
Staying competitive means continuous analysis of successful titles and understanding the resources needed to achieve or surpass that level of production.
For those who can adapt to market shifts, the outlook isn't bleak. In-game purchases are growing, and the industry may soon experience a boost, especially in lower-income regions. With the proliferation of mobile devices, more people are starting to play games requiring powerful hardware.
A case in point is the .io hit WormZone, now boasting nearly 500 million downloads. Despite an initial rejection by publishers due to high CPI in the United States, the game is now optimized, has a significant share of its player base in non-tier-1 countries, and remains highly profitable.
Here are the key recommendations for the near future:
Staff expansion. Move away from mini-teams and broaden the staff with highly specialized employees, as the success rate for tiny teams has decreased.
Prototype polishing. Most ideas won't fly if tested on a raw build, so polishing at the prototype stage is vital.
Content and diversity focus. Players have become more discerning, demanding more variety.
Genre rethinking and innovation. New mechanics, variability, and interactivity are needed. The market awaits fresh ideas.
Competitor analysis and decomposition. Regularly analyzing top titles to enhance internal expertise is key.
Project optimization for various regions. Consider regions with weaker devices to broaden reach.
Back to blog