How to get into the top 3 among simulators with a haircut project unlike others
Not all successful games take off high right away. Most don't. And collaboration between studios and publishers doesn't follow one pattern. The more interesting it is to see how this or that hit climbed to the top.
There are quite a lot of haircut games on the market. But almost all of them have cartoon art and are more focused on the female audience. We went in such a different direction that at launch 75% of the players were male. Then the audience was expanded, but the main difference from other projects has left — the realistic visuals.
As a result, a simulator about the barbershop's everyday life surpassed the mark of 10 million downloads in just a month. How did it succeed? Let's talk about it.
How it all started
The gameplay idea is very simple: a player serves customers according to their wishes: makes haircuts, dyes and styles hair using different tools, creates a hair tattoo — from geometric shapes to various symbols. The master's efforts are rewarded with positive feedback. Satisfied customers pay more money, which allows the salon to grow.
Now the gameplay looks like this:
Vyacheslav Galygin, founder of Next2Play studio, developer of Hair Tattoo: Barbershop Master: "The idea appeared in December 2021. I saw a YouTube video with 60 million views, where the master showed a haircut with a hair tattoo. It dawned on me — that's the niche, you need to do a simulator."
Alexander Prokopovich, Azur Games producer: "The guys brought us the haircut simulator project along with several others. But it was difficult to imagine how it would turn out, since even the core mechanic wasn't ready. The words "barbershop", "haircuts" and "salon" were associated with a whole bunch of competitors. We suggested the studio assemble a prototype to understand the idea."
The first build with a couple of mechanics demonstrated the viability of the project. But nobody wanted to make another standard product. It required the "main feature" that would change everything.
Visuals is a key
In spring 2022, a key approach was found: to rely on realistic settings and characters.
Alexander Prokopovich: "We decided to move away from the exaggerated cartoonish, too bright mainstream into realism. So that players can associate themselves with both the master and salon clients. And this choice paid off."
A simulator began to emerge without acid colors, sparkles and super cute characters, but with a recognizable interior and a calmer color scheme. Prior to the hyper casual project, Next2Play studio was engaged in a midcore project, hence their attention to the visuals, which is closer to the casual genre.
Vyacheslav Galygin: "I'm a fan of visuals. I think the influence of visuals on the game's perception is huge. I need the picture to be beautiful. Maybe by hyper casual standards it's too much, but such a hybrid aesthetic speaks to me, I like to do it that way."
Here goes!
When we found a solution with the visuals, we connected marketing tools: user acquisition, advertising, and metrics analysis.
Vyacheslav Galygin: "Our forte is development, and, frankly, I'm glad that marketing of the project is on the publisher's side. I don't have a headache now about UA, scaling, ASO, and it makes life a lot easier. I still keep track of metrics and trends, but I spend most of my time on game design and art."
During the advertising campaigns, we discovered some interesting features:
The game is best played in those regions where barbershops are an integral part of the historical tradition.

Ads on TikTok unexpectedly gave a big increase in organics.
Most likely, the game got viral. Although it's is only an assumption, the influx of organics continues to this day. In addition, the CPI on TikTok is lower than on Facebook ($0.16 versus $0.31).
Facebook Advertising Campaign
TikTok Advertising Campaign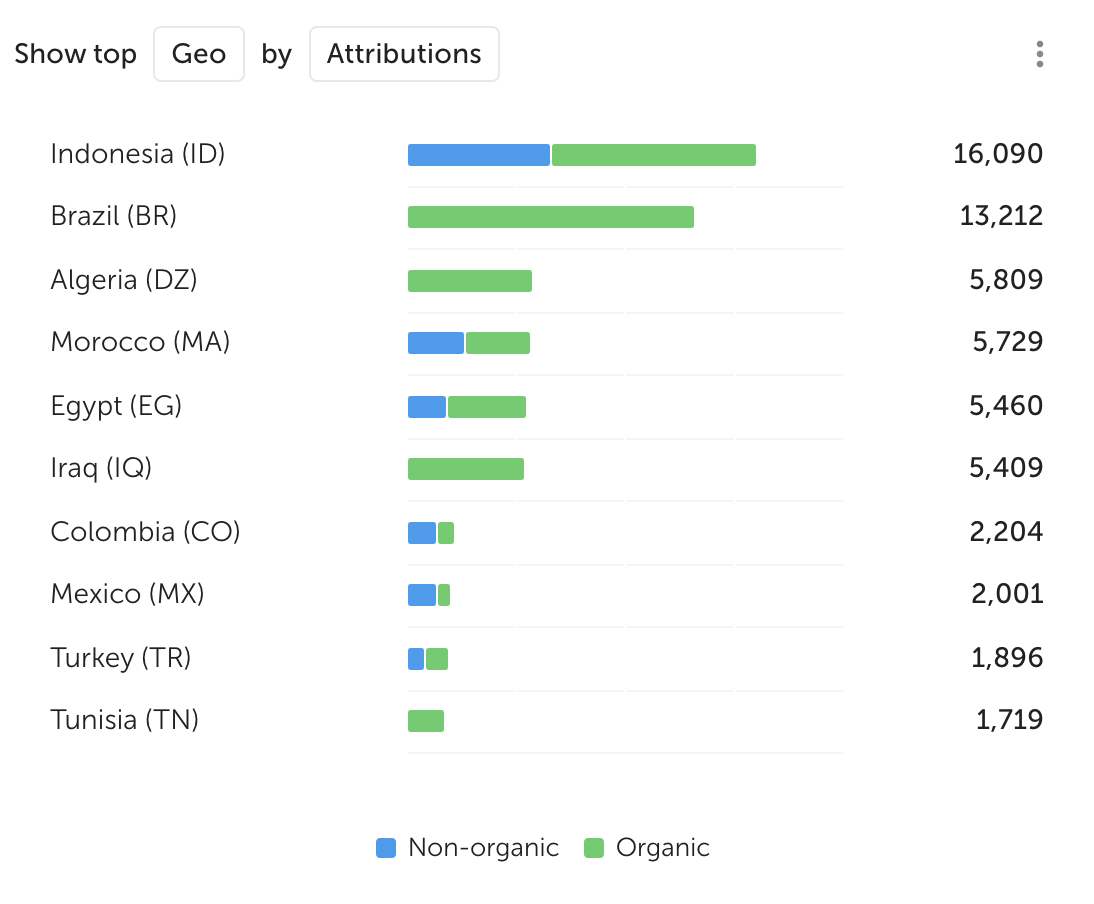 Audience expansion
Initially, the game was made specifically about a barbershop, that is, a salon for men. At launch, men made up 75% of the players, which is not typical for haircut simulators at all.
We were faced with a choice: continue to focus on the male audience and remain a highly specialized project, or scale the game at the expense of the female audience (and not lose male players at the same time). The second option looked more promising.
At first, the appearance of girls in the barbershop puzzled users. But very quickly the players accepted the additional opportunity. Male characters are still in the lead in terms of levels (they are cut more willingly), but more and more players like the variety of characters.
The preponderance towards male players is gradually smoothed out, the audience becomes mixed.
Freedom is better than no freedom
When hypotheses were tested, one of them was the idea to give a player certain patterns, according to which they cut the client's hair and shave the drawings. That is, in fact, depriving them of the right to make a mistake. It seemed that this should appeal to hyper casual players, since by default their work would be flawless.
But suddenly such a "help" didn't go at all. Players began to get annoyed by this imaginary ideality. And instead of an increase, we got a massive outflow of users.
The conclusion is: many don't strive for perfection, but for freedom of creativity.
Project progress
According to a report by App2Top.ru jointly with AppMagic, in July 2022, the game took 9th place in terms of total downloads — 14 million. And 8th place in terms of downloads on Android — more than 13 million installs.
Today, the project is in the top 3 simulators in many countries around the world and is actively developing.
Alexander Prokopovich: "We have regular meetings with the studio, we communicate closely, and we do a lot of A/B tests. I help with level roadmap assembly, give constant feedback on art, and even consulted the guys when they selected artists.
At first, the studio was a bit cautious, because in their previous experience, improvements and changes just broke the metrics. But we quickly learned to trust each other, so today everything is moving at a good pace and with enthusiasm."
There are plans to diversify the characters and haircuts, refine the setting, open a tool store, add voice acting and the ability to take photos of finished hairstyles.
So far, the game is monetized only through no ads and interstitials. But the audience already wants to spend in-game currency, get rewards. That is, players got into the taste and require a variety of challenges.
Vyacheslav Galygin: "We want not just make a hyper casual product, but consciously build a hybrid — with meta and and all features. The goal: to fully unlock the potential of the game, to create a cool story."
Keys to success
The takeoff of a project is always a bit of magic. But it adds up to quite specific things:
1. Theme selection based on market analysis and openness to the life that potential users live.
2. Ability to create unique visuals.
3. Striving for hybridity through the meta, inaps, and other midcore features that are increasingly used in hyper casual games.
The Next2Play team consists of seven members now, and all the attention goes to Hair Tattoo: Barbershop Master. But there are plans for new joint projects, so the studio will expand and modify the workflow. There are many more interesting things ahead!
Back to blog