Market research: how to find a breakthrough ad creative. Part 2
The second part of our research focuses on industry trends, helping us identify where the market is headed, as well as find new concepts and mechanics to test for your project. These can range from fresh creative ideas to innovative gameplay mechanics.
As of writing, I've noticed an uptick in creatives featuring satisfying customization, transformation, and ASMR, particularly on Facebook. In fact, there are now entire games that rely solely on these mechanics, like Makeover & Makeup ASMR, which has garnered over 10 million installs in the first two weeks.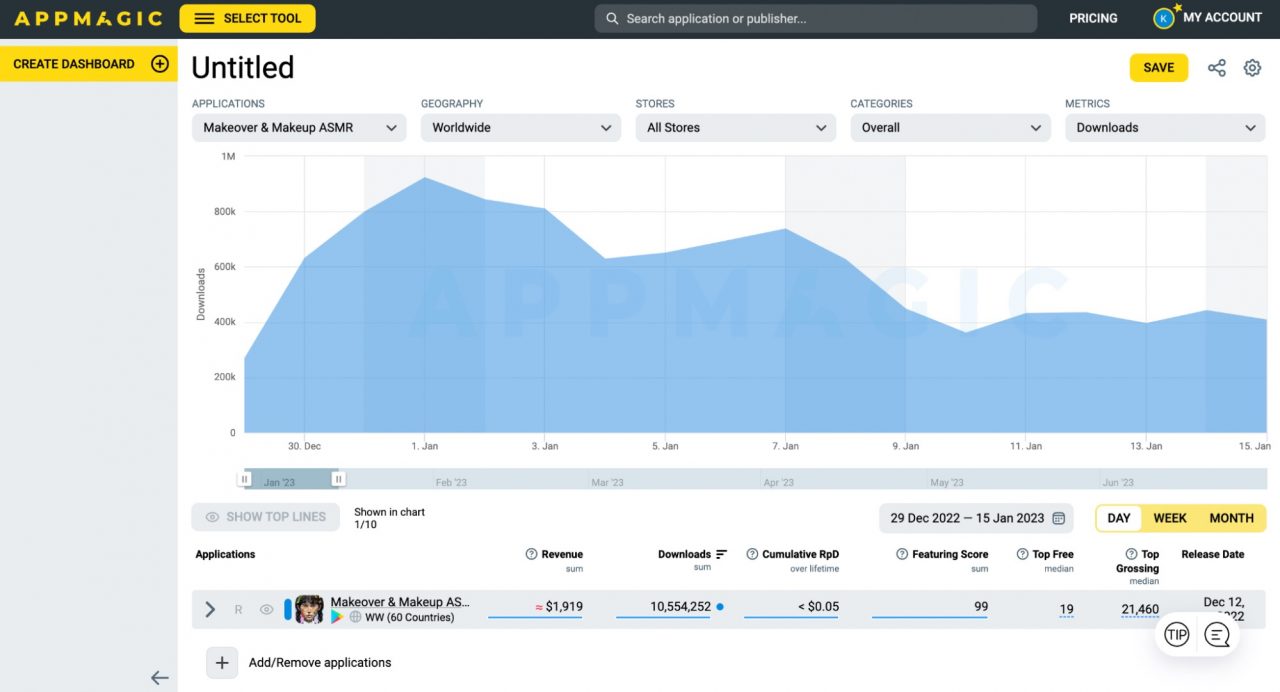 Check out the growth of installations for Makeover Studio after the introduction of satisfying character transformations: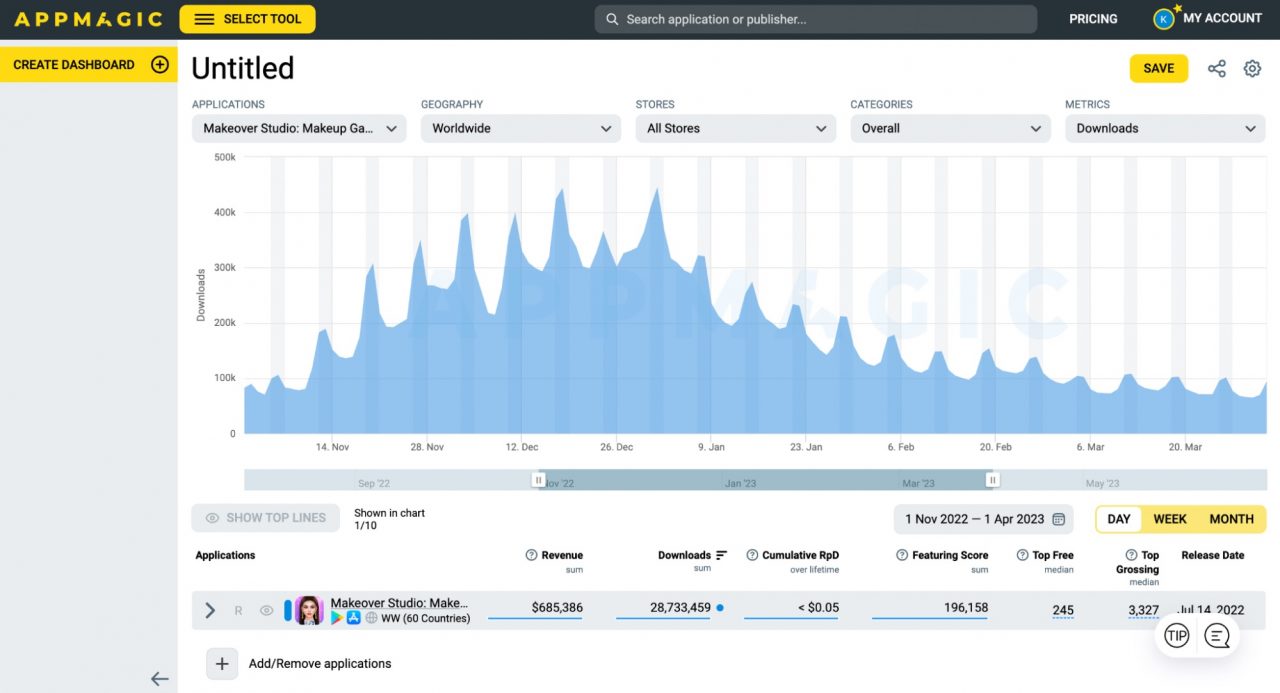 Here, we observe a peak in growth, coinciding with the end of December and beginning of January, similar to the pattern observed with Makeover & Makeup ASMR.
And here's the growth of installations for Merge Studio caused by the satisfying character transformation concept: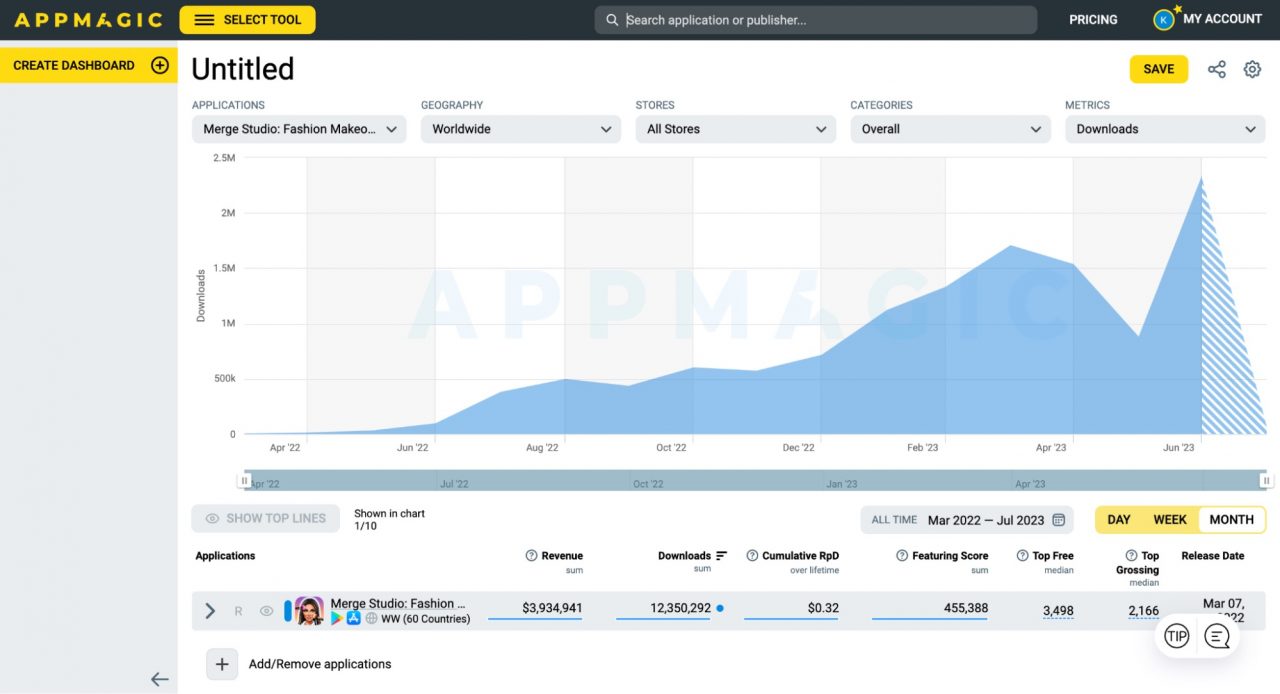 There are also global trends that appeal to a wider audience, often integrated into the hyper-casual niche.
Huggy Wuggy, for example, has been a wildly popular character in hyper-casual games, with many titles featuring similar characters on their icons and screenshots. Another example is the recent hype around Squid Game. Currently, the integration of the Wednesday series into mobile games and ads performs with great success.
It's important to track these trends, mechanics, and creative concepts frequently — at least once every few days — as they can quickly rise to the top.
Let's dive in and get started.
1. Head to the Top Apps section.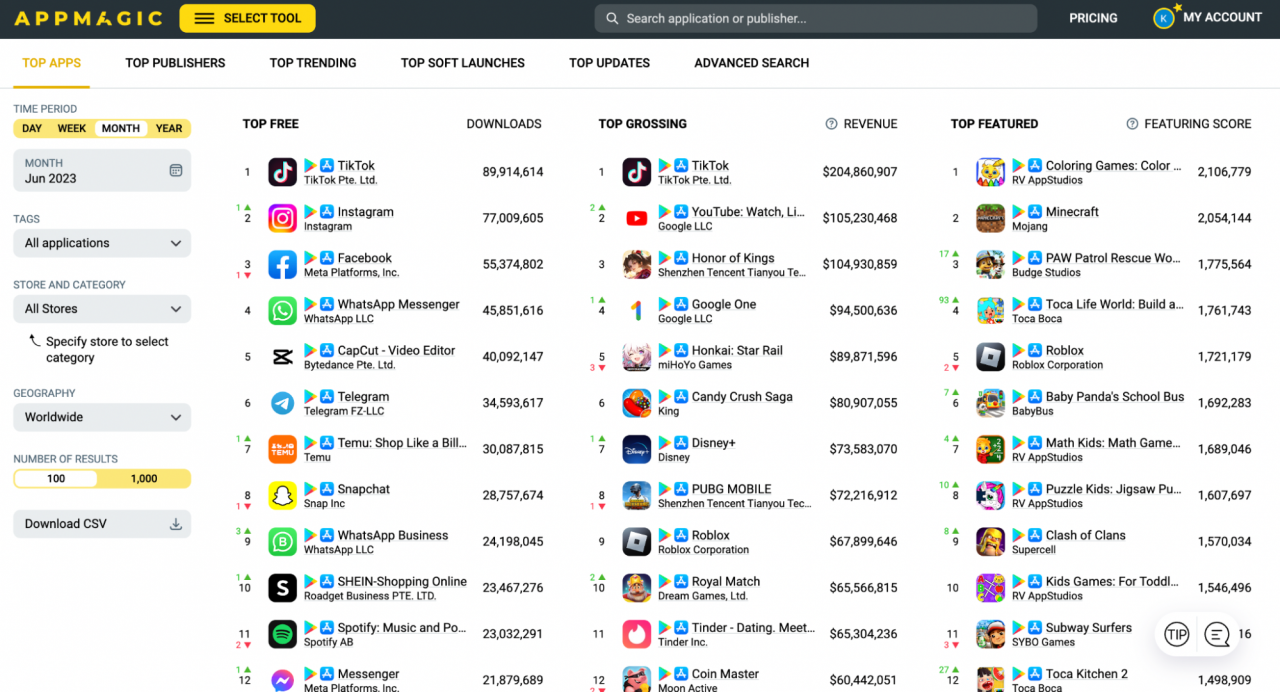 2. Examine the settings bar on the left.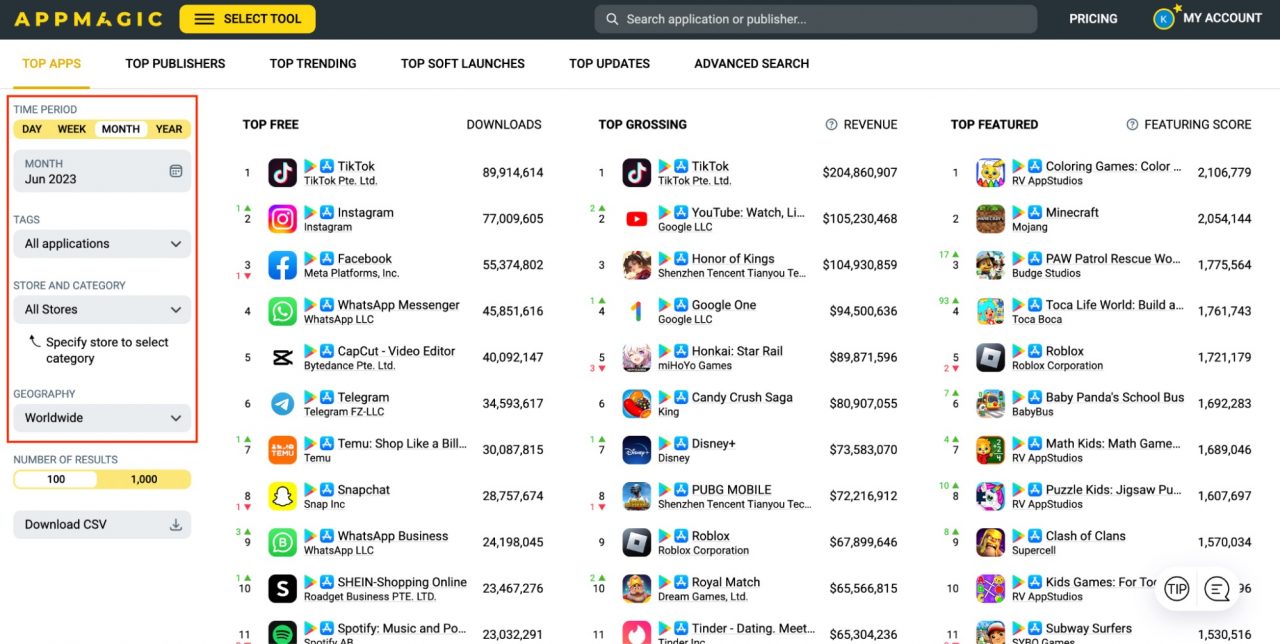 Time Period. It's crucial to check both the month and week top charts (narrowing the range is important to track the games' growth/decline and stay up-to-date on the latest trends).
Tags. Start with the Games category, then move on to your specific niche.
Top Free/Top Grossing. Look at Downloads and Revenue.
Store and Category. Usually, All Stores is the best way to go.
When looking at the top charts, pay attention to the following:
Store icons and screenshots. These will give you insight into which characters and mechanics are being highlighted and whether there are any new concepts that have increased traffic.
Title dynamics. If you notice that a title has been consistently acquiring for a while and suddenly experiences a sharp upward trend, it's worth studying the title in more detail. This could be an indication of a change in creative strategy, the team tapping into trending mechanics, or even connecting to new traffic sources.
While this research may seem simple, its importance lies in its regularity. By regularly monitoring the market and responding promptly to changes, you can effectively test new trends and hypotheses.
AppMagic features a distinct tool that significantly streamlines the process of tracking games with a dramatic increase in popularity. Navigate to the Top Trending section to access it.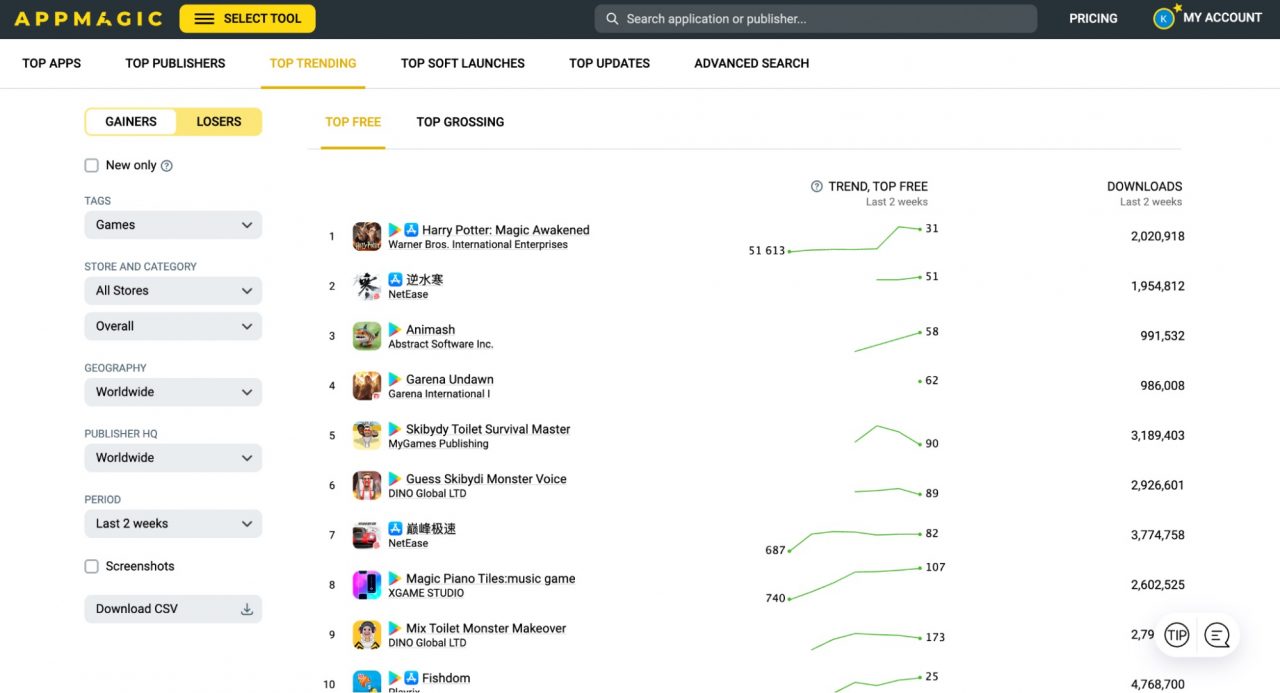 The configuration is similar to that of Top Apps, but Top Trending allows you to see the games that have experienced the quickest growth over a specified period. This becomes a cue for us to delve deeper into the game, aiming to understand what triggered this sudden rise. Often, it can be attributed to changes in creative strategy or the introduction of a new, influential creative concept.
You can analyze the situation for all games, or you can filter the view by genre, mechanics, or settings (the same functionality applies to the Apps view).
This section also enables you to spot games that are trending downward quickly. To do so, simply click on the Losers button.
3. Another technique for identifying trends.
Is to search for patterns of top creatives by traffic sources. To do this, navigate to the Select Tool within the Ad Intelligence section and select the By Market Segment subsection.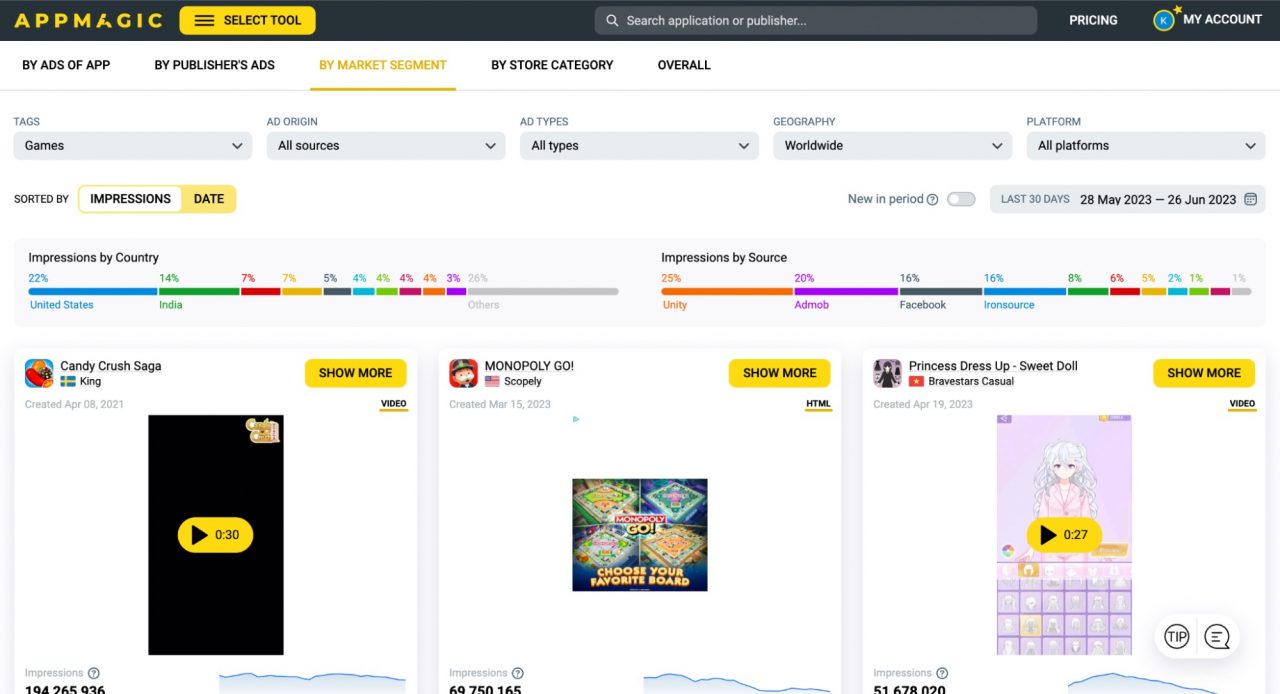 The configuration closely mirrors that of the competitor creatives research, with the exception of the Tags column — this is where you can select the category, genre, or setting that interests you.
You can view sources collectively or individually. I suggest starting your investigation with your primary sources, like Facebook and Unity. This research is most effective when you examine sub-genres, explore trends within your desired game genres, and study various sources extensively.
What's next
Given the highly dynamic nature of the market, it's essential to continuously adapt, explore new approaches, and make necessary adjustments.
To ensure that the aforementioned methods are as effective as possible, you can take the following steps:
Incorporate regular research into your workflow to stay up-to-date with the latest developments in the market and boost your visual experience.
Develop a creative strategy that is updated on a monthly basis and is improved iteratively, allowing you to discard solutions that don't yield results, work on promising hypotheses, explore new growth opportunities, and experiment with new trends.
Conduct team brainstorms and continually improve the process, as one workflow isn't suitable for everyone.
By following these steps, you can stay focused on the most impactful areas for your projects, and work towards improving them.
Next time, we'll delve into the topic of identifying benchmark competitors, a task as important as it is challenging. Stay tuned!
*****
Back to blog