From an indie developer to a full-cycle studio with the publisher. Part 1. Western Sniper
In 2018 and 2019, mobile game development studio Bazinga consisted of two people who mainly made idle games. Now it's a full cycle studio of 10 people with successful projects that have earned hundreds of thousands of dollars.
We've been moving towards this together gradually with a series of hyper-casual sniper games as our base, despite the amount of competitors on the market. Our first successful game together was Western Sniper, which earned $500,000 in a year.
Prior to joining Azur Games, the studio had little to no experience in developing hyper-casual games. Western Sniper was Bazinga's third prototype and the first successful game. For a while they even worked with two publishers at the same time — one of their prototypes with another publisher also showed good results and earned some money, but never reached Western Sniper's level of success. We've been working together ever since.
"Our shared success came quite quickly with one of the first projects, which probably was the decisive factor. The feedback and expertise that Azur Games offered us immediately also played a big part. So did the willingness to experiment," said Adrian Garciuc, Bazinga CEO.
The idea of ​​a hyper-casual sniper game came from within the studio. There was already competition in this genre, but, as a publisher, our main goal is to make projects that the developers themselves like.
I've put together an initial concept about sniper ops in a modern urban setting. When part of the work was done, we stumbled upon a fresh test copy of an incredibly similar game from another major publisher. I remember that day well: the guys showed me a video, the third-party project was ready for release, and ours now looked like its clone. I had to improvise in order to make our game pop on a deeper scale, and came up with another concept based on the existing assets, but in the style of a western. No one did sniper games in this setting, and later it even became a decisive factor for the players from the US.
The guys picked up the idea and four weeks later brought the first prototype, which we immediately sent for the first test:
R1: 35%+
CPI: 30 cents in the US
Playtime: 7 to 8 minutes
Not the strongest retention, low playtime (because there was little content at the start), but the CPI was good and we really liked the project as a whole.
So we started pushing the project further.

Mechanics, special features, and focal points
The core idea was to make the project interesting in terms of level design, and the studio did it perfectly. At the start, there were only 30 levels, but they were all very diverse, which made the game stand out from the competition.
We had to fill the world of Western Sniper with content and encourage the players to discover it for themselves, keep them interested in what would happen in the next location with each new level. A town level could very well be followed by a train level.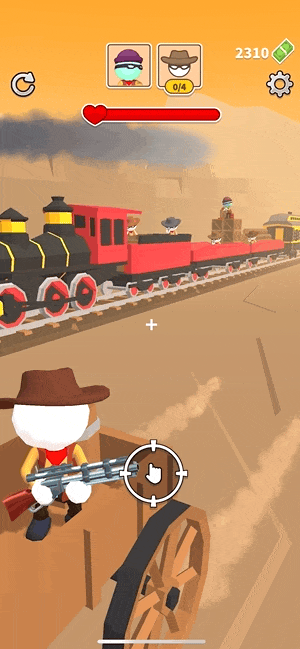 I think the main reason why the players gave Western Sniper such a warm welcome is well-designed content. But this coin had a different side — level design took a lot of time.
"Another off-pattern feature is that our main character can hide behind cover. Because of this, it was possible to make the enemy fire more dense and threatening and simultaneously give the player enough time to plan and respond. This added dynamics to the game and gave it a new feel. In most other similar games of that time, the enemies didn't return fire at all," said Alexander Nikanshin, Bazinga game designer.
There were also smaller features no one usually pays any mind to. There were also some that appeared by accident, for example: headshots made the hats fly off the opponents' heads with great speed.
"Sometimes, headshots launch the hats nearly into outer space. This effect came to life because of random Unity settings, but everyone liked it — it was reminiscent of the scenes from spaghetti westerns. If we did this on purpose, then, most likely, the physics would turn out to be more realistic, but not nearly as funny. So, even when we started doing the next project, Dima constantly repeated that "hats should fly off." It's a small feature, but it adds an impact," added Alexander.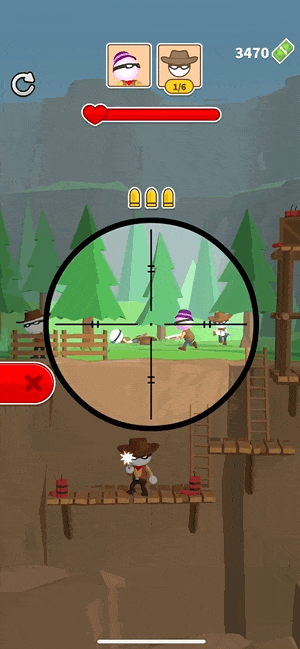 The levels are also partially destructible, we'll talk more about it in one of the following articles about a project where level design is largely based on this.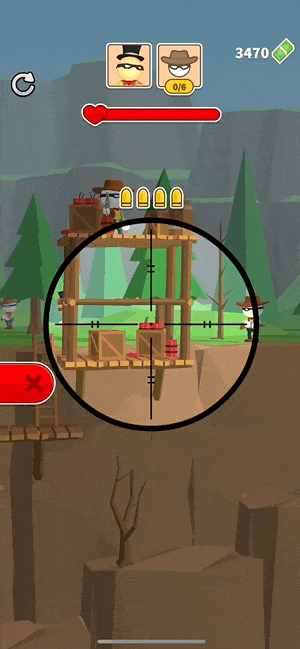 The game has first-person bonus levels, which is nothing new for the genre. The only difference is that levels like this usually have machine guns or rocket launchers, and we used two revolvers to complement the setting and atmosphere of old westerns. Plus, it performs well in ad creatives.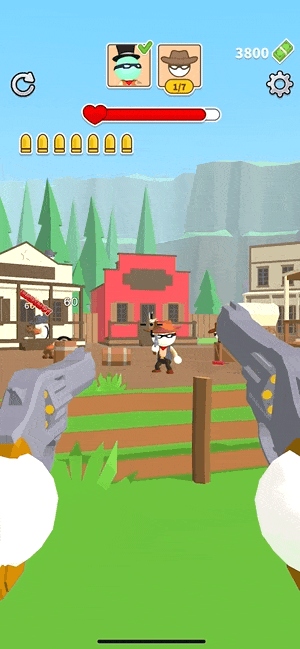 Unexpected growth in the US
After that, we began working on the character upgrade meta and doing full-fledged voice acting. We brought in a sound designer, prepared the music, iterated 2 or 3 updates to set it up, and in October 2020 we started the first major user acquisition.
When the game launched, it was a bit surprising. The retention is usually higher in the US in general, but Western Sniper had 10% over that number for the first six months. R1: 35% worldwide, R1: 45% in the US.
Most likely, this is directly related to the setting. As a whole, Western Sniper performed well in the US. When we broke even worldwide, the States brought in huge amounts of revenue. That being the case, the game earns money mainly in the US. By the time of the large-scale launch in November the metrics there were as follows:
R1: 45%
R7: 10-12%
R30: 3%
CPI remained in the 20 to 30 cent range
In December and January, we began growing the project even more because we noticed the people's desire to play westerns. The game is still alive and periodically gets scaled.
In the first six months, we earned a total of $200,000. All in all, the game made about half a million in a year and allowed the studio to reach self-sufficiency. We liked the results and the quality of the studio's work, so we suggested moving from a pay-per-prototype model to full cost coverage. We spoke more about this model in another article.
Monetization and planning a new project
Initially, we had a lot of interstitials, but not enough rewarded ads compared to our other hit games.
"The initial idea was to make a first-person game, but then we thought it would be nice to put rewarded ads into the game in advance. This is how a third-person view and a character with changeable skins came to be," said Alexander Nikanshin, Bazinga game designer.
But rewarded ads didn't radically change the situation. We tried to add NoAds, but the feature greatly decreased the metrics, although it would seem that it's an obvious thing. So, we had to let it go.
This was one of the reasons why we decided to radically remake and release the second part of the game. We wanted to initially lay the foundation with pre-designed features and add features in modules in order for the game to definitely be a success.
There are some problems with this in Western Sniper — not all theories showed growth, and we're still trying to figure out the tricky part. After a dozen updates, we saw that we hit the ceiling, some unexplainable stuff is happening and we need to move on. By that time, we had State.io, which proved that making a new project using previous developments is something you could work with (more on that here).
I suggested doing the second part, aiming at something more ambitious. I wanted the game to occupy a new niche that stood out. But more on that next time.
Final thoughts
"The studio has experienced significant growth during this time. There were only two of us when we made the first idle games, so some stuff had to be outsourced — it was a real indie development. The process was slow, we had no budget. When we started working with Azur Games and got into making hyper-casual games, the resources began to increase. Because hyper-casual is all about dynamics. The market is changing so fast that in 3-6 months the very concept of the game has a high chance of becoming obsolete.
During the development of Western Sniper, our team grew to six people — we hired level designers, a technical artist and one more developer. But the most important thing is qualitative buildup, because now we have specialists in different areas within the team. Although we still have support from Azur Games, which we'll discuss more in the next part," said Adrian Garciuc, Bazinga CEO.
From an indie developer to a full-cycle studio with the publisher. The complete set
Back to blog